This latest Clibu release makes it easier to add Tags both to Articles and to the Tags Tree. If you are a heavy Tag user these new features will speed up and simplify your work flow.
The 'New Tag' button which is beside the 'Hide/Show Tags Tree' button located above the Tags Tree, lets you create a new Tag and add it as a child of any existing tag. Ctrl+G also does  this.

The Tags Tree item menu now includes 'New child Tag' which lets you quickly add a Tag as a child of the selected Tag.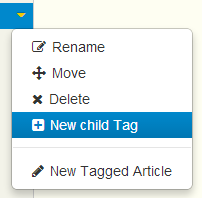 The menu also includes 'New Tagged Article' which creates a new article tagged with the selected tag.
This release provides a new quick way to add tags to an article from content (words) in the article. Select the text you want to use for the tag and the selection toolbar pops up.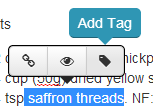 In this example I've selected saffron threads. Clicking on the 'Add Tag' button adds saffron threads to the tags for this article.

saffron threads doesn't exist yet so you are given the option to Create it or edit it.
The two screen shots above also show the new look tooltips we've implemented in this release. Different colored tips are used in different contexts and along with better positioning enable us to provide more targeted feedback.
The final area I want to highlight is Clibu's ability to both Rename and to Merge Tags. Merge comes into play when you want to rename a tag and the new tag name already exists.
In this scenario all articles using the original tag are updated to use the new (existing) tag and the original tag is deleted, hence merging the two tags into one.
In my experience some applications allow you to rename a tag, but typically only if the new tag doesn't exist. This is a pity as the ability to merge similar tags is an important one when it comes to effective tag management.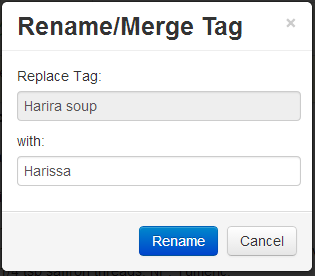 In this example I want to rename the Tag Harira soup to Harissa soup.
As soon as I finished typing Harissa soup two things happen. First a tip pops up telling me that the tag Harissa soup already exists in the current parent tag Moroccan and second the 'Rename' button changes to 'Merge', making it clear what will happen if I continue.
With this release we've continued to add important new functionality, enhanced existing capabilities and fixed a variety of bugs.
For complete release notes see: Clibu Alpha V0.65.03 Beta released, 23 April 2014
If you are looking for a better way to collect, manage and share information and would like to influence Clibu's development direction then you should participate in our Beta program. See the Clibu web site for sign-up details.
If you are signed up for the Beta program but are not actively participating in it, you may find that you've been removed. Contact us if you want to restore access.
Happy Clibu'ing, Neville