Surfulater Version 3 has been officially released following review by our early access release testers. I provided a summary of the new features and enhancements in the last blog post and won't repeat that here. Instead I'll briefly cover some of the main new capabilities. Remember that the V3 Release Notes in the Surfulater Help go into detail.
Tagging is  the number one new feature in Version 3. This enables you to classify articles using single or multiple word tags and instantly locate them again. For example you could add the tag 'Solar Energy' to all articles related to solar energy and then access these in the new Tags Tree.

Adding Tags to articles is assisted by auto-suggest. Just type the first letter or two and a pick list will display all appropriate matches.

Select the tag you want from the list using the arrow keys and press Tab or Enter to use it. Or just click on it.
To add a new tag to the tags database simply enter it into the Article Tags field or use New Tag from the right click context menu in the Tags Tree.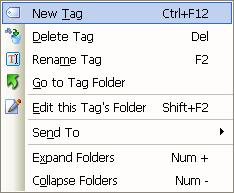 Tags can be renamed, merged and deleted to build the set of tags you find works best over time. And tag maintenance tasks like rename happen instantly, unlike some other products.
You can also add tags to a set of articles in one go, and similarly remove tags from them using the new Tags… dialog.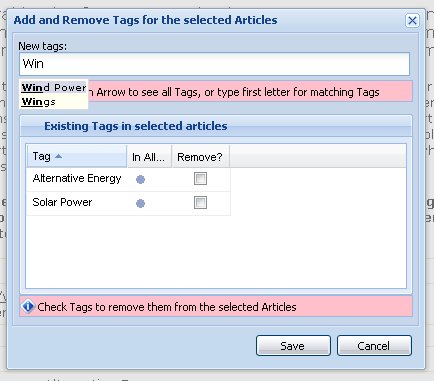 Tags provide an alternate view into your knowledge base to the hierarchical folder tree. Taking an analogy with a Book, you can think of Folders as the Table of Contents and Tags as the Index. Well that is an epiphany I had recently.
See Tags and Tagging Articles in the Surfulater Help for a complete reference. You will also find several posts here on blog about tagging, along with some of the design decisions that were made.
The next big new feature in Version 3 is the ability to rearrange article layouts to best suit your needs. Out of the box a Web Template article has this layout: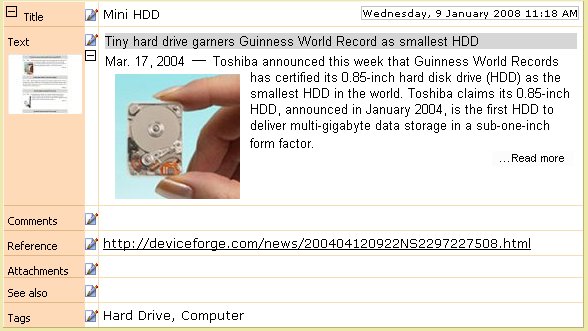 But what if you would prefer to have say the Tags and Comments fields moved up below the Title. This is where Template Editing comes into play. Click on Edit on the main menu and you will see a new menu item: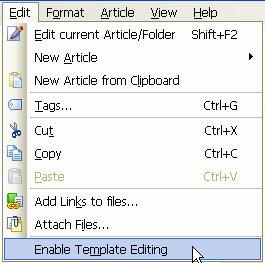 Choosing Enable Template Editing puts Surfulater into a special mode that enables you to change the order of article rows by simply dragging them to the location you want and then dropping them, as shown in this screen shot.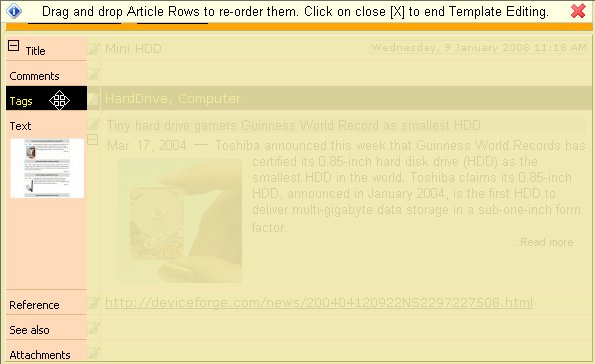 When you have finished rearranging the rows click on the [x] on the Information Bar at the top of the content window to exit template editing.
This is a precursor to more advanced template editing and creation to come.
See Editing Article Templates in the Surfulater Help for a complete reference.
For full details about what's new in Version 3 do read the V3 Release Notes in the Surfulater Help.
Surfulater Version 3 has been a while in the making and has broken with our regular steady stream of new releases, however there are very good reasons for this, of which you will hear about soon. Now that V3 and other tasks are behind us, you can expect to see more frequent releases again. In fact I'm already hard at work on the next release. And I'd really like to get blogging a bit more often again.
Neville