We've been very busy working on Clibu over the Christmas New Year break.  Since the initial V2.00.0 release on Dec 5. 2017 and the last Blog post we've released six Clibu V2 versions with a range of updates, fixes and new capabilities.
One of the more important and complex updates was moving Clibu from using insecure http to fully secure https, wss and ssl connections to the Clibu server.
We've also updated the Clibu Web Clipper to use https, wss so the whole Clibu stack now uses end-to-end secure connections.
Besides enabling Web Clipper https support, we've updated it to match the new Clibu V2 look and feel and streamline its user interface.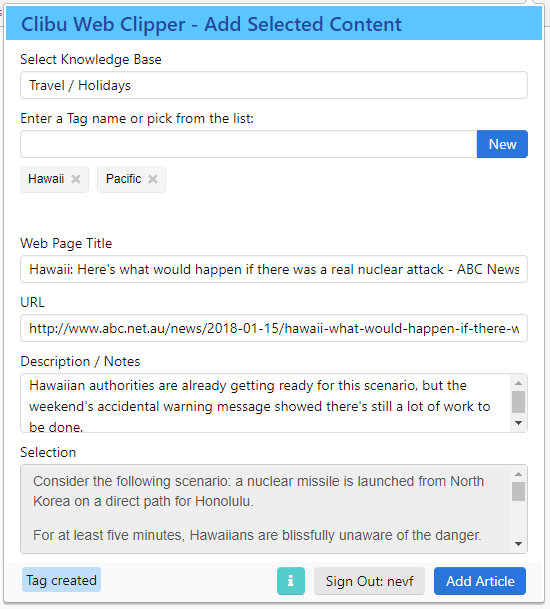 The new information button displays the url of the server that the Web Clipper is  connected to. This is particular useful if you are using the 'On Premise' version of Clibu as you can see whether you are connected to the local On Premise server or our cloud server.

The Web Browser context menu item 'Append Clip to Article' shown above  now appends the selected content to the article displayed in the current Clibu KB/Tab.
If Clibu is open in multiple Browser Windows then the most recently displayed article is used for the clip. Previously the currently selected Clibu Article was used, except when the Web Clipper had created a New Article, however this was confusing. and not very intuitive.
Talking of Clibu 'On Premise' we've now completed upgrading it to Clibu Version 2, or more precisely the V2.00.09 release. So if you are using Clibu On Premise you now get all the new Clibu V2 look, feel and capabilities.
In case you haven't heard of Clibu 'On Premise' it enables you to use Clibu installed on your own PC or Server with all data stored locally and completely in your control. See Clibu – Install and Run Locally for details.
For complete release notes either click on the Clibu User menu and select 'Release Notes' or click here.
I think you'll agree we are off to a good start for 2018 with lots more to come.
All the best for the year ahead.
– Neville