Articles displayed in the Search Results folder have always been a little troublesome because you had no idea what folder(s) they actually lived in, and there are times when that meta-information is important. We've tossed around various possible solutions to this, but have never been happy with any until just recently. During yet another brain-storming session the penny dropped that yes Search Results articles are the main problem here, but wouldn't it be nice to know all the folders any article is in, besides the current one of course.
For those new to Surfulater you may not be aware that an article can be in as many different folders as you like, with there only ever being one real instance of any given article. This solves the age old problem of picking just "one best" folder for an article.
So after this thought sunk in, some more lateral thinking bore fruit with the end result being to add a new "In Folders" breadcrumb row to each of the article templates, as shown here.

This shows that this article is located in the Knowledge Base | Alternative Energy | Solar Power folder. Each of these three sub-folders is a clickable link which take you directly to the respective folder.
When an article is in more than one folder, each one of the locations is displayed:

In addition a link named Article is included for each folder, other than the current one. Clicking on this takes you to the article in its associated folder. This new feature lets you not only see each of the folders an article is in, but also to jump to each copy of it.
Furthermore these new "In Folders" breadcrumbs are displayed for all of Knowledge Tree views. This means that when you are viewing articles in the Tags or Chronological trees, you can now see what folders they are located in, and instantly jump to them in the Normal Folder tree view. This builds on the right click context menu item "Go to Article in Normal View" in the Tags and Chronological tree views and "Go to Article" in the Search Results folder. Each of these goes to the first article found in the Normal Tree view, whereas the new "In Folders" breadcrumbs enable you to go to any article, when it is located in multiple folders.
The final enhancement here is the update to the display of collapsed folders in the content window to match  the Articles new "In Folders" row as shown here: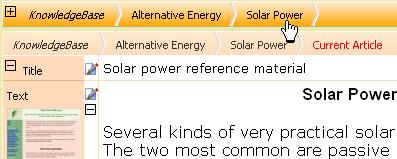 Like all Article rows, the "In Folders" row can be moved up and down using Edit | Enable Template Editing. See the Help Topic: Power Features | Editing Article Templates for further information on this.
I am sure you will find these enhancements let you move around and locate specific copies of articles quicker and easier than ever before.
For details on the other updates in this release see the "V3 Release Notes" topic in the Surfulater Help. The Download is in the usual place.