Surfulater V2.00.30.10 is the second of two releases in quick succession. With the V2.00.10.0 upgrade to enable multiple articles to be selected in the Knowledge Tree, Surfulater came out the other end a little worse for wear. I always knew that implementing multiple selection was going to be reasonably complex and impact on quite a number of areas, but I'm a bit annoyed with myself that two quite serious issues slipped through testing. The fact that they took a while to surface is some small conciliation, however it would of course been far better for everyone if they hadn't existed in the first place. The most serious problem was fixed in V2.00.30.0 which has been out for almost a week now and the folks that had reported the problem have not had it reoccur so far.
The main new feature in the .30 release is that the Chronological Tree view has been updated with two new ways to group articles in the tree: By Week and By Month. These are in addition to the original Day/Week/Month view.  The "Show Articles in Chronological order" toolbar button, which is above the Knowledge Tree, now includes a drop-down arrow which enables you to select from one of the three available article groupings as follows: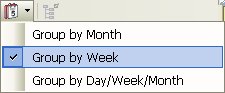 And the resulting trees look like:
By Month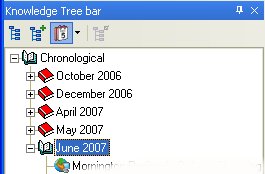 By Week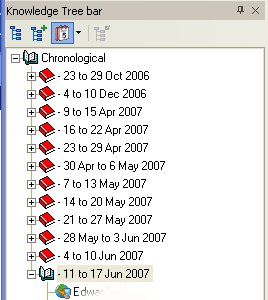 By Day/Week/Month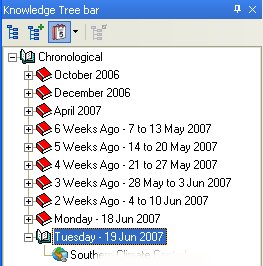 These new groupings follow on from feedback for the V2.00.20.0 release which enabled you to change the Date Created for articles. They will be of particular interest to people using Surfulater as a Journal or Diary. See the Help topic 'Knowledge Tree Views' for more information.
The final thing thing I'd like to show is how easy it is to create links between articles (See Also links) by dragging an article from the Knowledge Tree and dropping it on the 'See Also' field of the target article. See the Help topic 'Creating Cross Reference links' for further information.
(You need to use IE to see the movie. For some reason it doesn't appear in Firefox!)
The Surfulater Download is in the usual places here and here.