Time flies, it has been almost a month since we launched the Clibu Alpha trial. The good news is we've now officially progressed from Alpha to Beta release status, which is a big and exciting step. Of course development continues apace with new capabilities added and bugs fixed.
We've had some good feedback, but need so much more, so please do get in touch, either by creating a Support Ticket or via. the Clibu Forums, both located at our Clibu Support Center.
If you've already been accepted into the Clibu Trial but haven't had time to try Clibu yet and intend to soon, please let me know, so you aren't removed from the program.
This release enables you to create 'See Also' links to tie related articles together.  Start by selecting the target article by clicking on it's checkbox.

Next select the text in the source article where you want to create the link.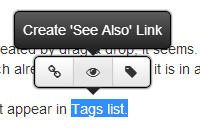 Finally click the "Create 'See Also' Link" button.  'See Also' links are not restricted to a single Knowledge Base and can link articles across Knowledge Bases.
'See Also' links have their own styling as shown here.

You'll see another new feature above, the floating toolbar. This is displayed whenever you select some text or click on a link.
When you click on a link, press Ctrl+K or click the 'Insert a link' toolbar button when the cursor is on a link, this floating toolbar pops up.

From here you can Edit, Remove or Open the link.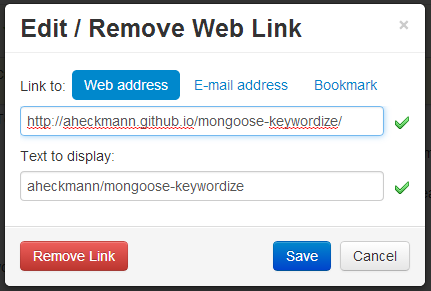 Editing lets you change the link's Web address or edit its text. You can also Remove the link here.
These new floating toolbars make it quicker and easier to perform selection and link related tasks. Other new planned text selections capabilities will make further use of floating toolbars.
This covers the most important additions to this, our first Beta release. See the Clibu Release Notes for further details.
– Neville