This Clibu Notes release continues laying the foundation for our simpler, faster, private, Note capture application. It includes important new capabilities such as fast full text search, a range of user interface changes based largely on user feedback and plenty of tweaks and bug fixes.
Fast full text search
Let's start with Search. We've replaced the search engine used in Clibu, which unfortunately wasn't as good as we'd liked.
The search in Clibu Notes is lighting fast and includes fuzzy and partial matching along with word stemming. For example "camping" will find "Camper", "Camping" etc. as will "camper", "camp" etc. as shown below.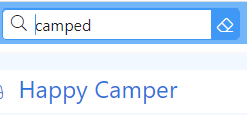 Search results are displayed instantly as you type, with no waiting to get data from the cloud. Search results are available in the Search Tab, so there is no need to redo a search. Results update when you select either the Search Tab or Search prompt, so they are always reflect reality.
The Clibu Notes Tree, Notes List/Grid and Editor all update to include just the search results as shown here.

Search results will be highlighted in the Note editor in a future release.
Selecting a note in the tree will show only the search results in that tree branch, letting you drill down to a subset of results. Click on the Home icon goes back to showing all search results.

In a similar way, Filters can be used along with Search to home in on specific notes. For example you could show only search results with a green title or a certain icon.
Being independant
Every combination of View Group (Notes, Archive, Trash), Sort Type (Title, My Order, Date Updated,…) and List View Tab keeps its own set of Filters and Hoisting properties. This flexibility lets you have independant and specific sets of Notes displayed for each of these combinations.
When these change a notification is displayed summarizing what's on view.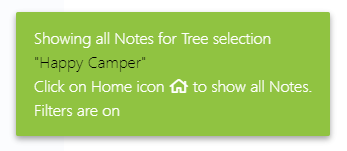 Streamlined user interface
We've simplified and relabeled various user interface components in this release. Click/tap on the Filters button now toggles filters off/on and the dropdown arrow opens the filters menu. Changing any Filter setting now activates it's filter and turns Filtering on. The New Note button is also more prominent.

The Sort Order button and menu have also been changed. The button text and icon indicates the current sort order, which can be changed using the direction button on the right. We've removed the sort direction buttons from the menu itself, which were confusing.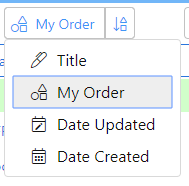 That's all for now
This release adds important new functionality, addresses a range of issues which weren't working quite right and improves overall usability.
Next steps include major updates and added functionality to the Note editor along with work on the server to finish the multi-device synchronization. This builds on the current multi-tab synchronization currently in place.
The About page in Clibu Notes includes a roadmap I suggest you read. About can be accessed via Help or the Settings menu in Clibu Notes
As with earlier releases send an email to info@clibu.com to get access to this release. For continued early-release access we need your comments, criticisms and suggestions, so please do get in touch.
You can add comments below and open tickets in our Help desk, accessed via. the Settings menu in Clibu Notes. Or get in touch via email if you prefer. You can also follow us on Twitter.
Stay well, stay positive and be considerate to all around you.
Neville Franks, Author of Clibu Notes, Clibu etc. ©Soft As It Gets P/L 2020