In Part 1 I wrote about Clibu User and Account Management.  In this post I'll walk through Clibu's new Knowledge Base Sharing capabilities.
Sharing enables other people to view and collaborate on Knowledge Base content. Clibu updates all users content in real time, so everyone see's changes as they occur.
To Share a Knowledge Base, open it and click on it Tab's drop down menu and select Share.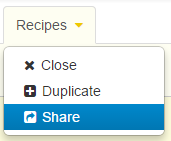 This opens the Share Knowledge Base dialog.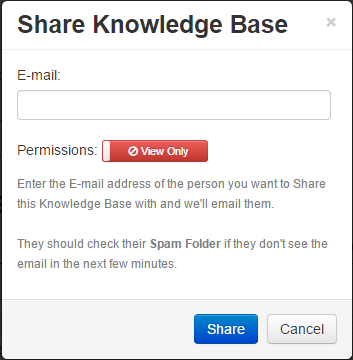 Start by entering the E-mail address of the person you want to share the Knowledge Base with. They don't need to be an existing Clibu User.
Next you can either grant them View Only access which means they can look, but not touch or you can grant Full Access, which means they can do everything you can. Click on the button to toggle between the two settings.
Finally click Share and an email is sent telling the person what they need to do to access the KB. The email looks like this: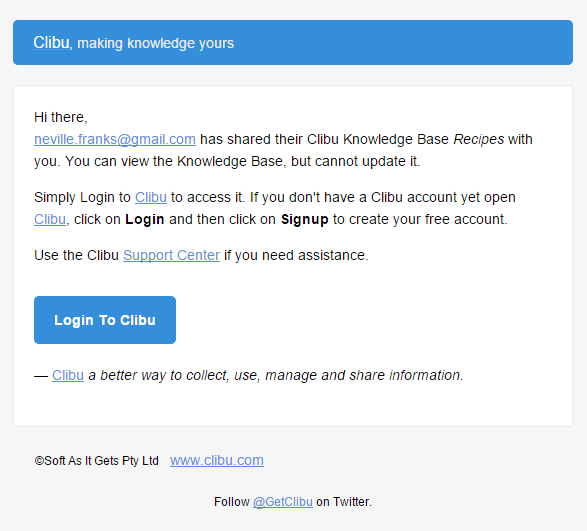 If the user you have shared the Knowledge Base with has Clibu open, they will also see a notification to this effect.
Shared Knowledge Bases are grouped together on the Knowledge Base menu and include an icon indicating they are shared.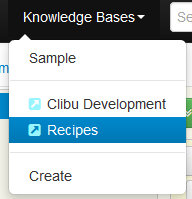 They same icon is used on Tabs that contain shared kb's.
Sharing permissions can be changed at any time and shares can be removed. Select Share on the Tab menu and enter the email address of the person you've previously shared the KB with.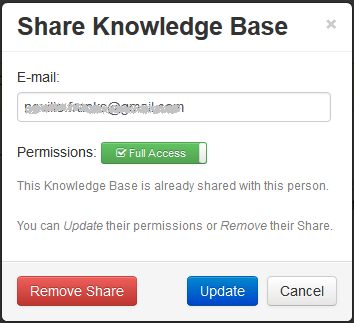 From here you can change Permissions and click Update or use Remove Share. The user will be notified by email and also by a notification popup if they are using Clibu.
If they have the KB open it will be closed if Remove Share was used, otherwise it's permissions will be updated.
At present we've exposed just two permissions, Full Access and View Only. However we've implemented a much finer grained sets of permissions down to the level of; can a user add Tags, rename Tags, edit Articles, add Articles, create Knowledge Bases etc. etc. Based on user requirements and feedback we'll look at exposing these advanced permissions in a future release.
I've also put the groundwork in place to track user activity, so you'll be able to see who has edited an article, added tags to it etc.etc. and when.
The ability to collaborate with colleagues and share valuable information is all important. I hope you find this release is heading in the right direction and look forward to your feedback.
– Neville