This Clibu release incorporates user interface enhancements based on your feedback.
A new button has been added which toggles the way collapsed articles are displayed.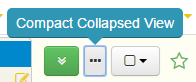 The new compact view displays a line or two from the article and excludes all other article widgets. This lets you see a list with more articles per page.
Next you will see a new button at the left of each article.

When you click on this, all articles other than this article, will be hidden. This declutters the screen so it is easier to focus on the task at hand. Click it again to reveal the hidden articles.
When another Clibu users adds an article to a Knowledge Base you have open or when you or another user adds an article using the Clibu Web Clipper, to a KB you have open, you now have the ability to display these articles.

When such articles are added you will see a button like the one shown above displayed on the top navigation bar. Simply click on the button to see the article.
To see a complete list of the updates and issues addressed in this release see the Clibu Release Notes.
Many thanks to all of our Clibu users for your support this past year. Wishing you a very happy Xmas and a healthy and happy 2015.
– Neville