Time to follow up on my last post about the new Surfulater Web site. The Web design company did a fantastic job, I really couldn't be more pleased. I've performed a quick peer review and the feedback clearly indicates that the new site is a big and very worthwhile improvement. The design though is just one part of creating the new site. In essence it forms the template upon which the new site is built.
I mentioned in the last blog post that the new site would be built using a Content Management System or CMS. My original thoughts were to outsource the production of the new site using the CMS and I found someone who I feel would have done a very good job. However in the end I decided that I really needed a thorough understanding of the CMS in order to further develop the site and also to maintain it. And so outsourcing was scratched and the journey to learn the CMS was begun.
As often happens with new projects and new tools great progress is made early on and you are lulled into thinking that pace will continue, but this is not always so, as was the case here. I commented on the weekend that I feel like I am a hurdler at the moment, instead of a software developer. I run along smoothly for a bit and around the bend and out of sight a hurdle appears. With all my might I get over it, only for the pattern to repeat over and over again, or at least that's how it seems.
However I do really feel that all of the hurdles are now behind me, no more issues to set me back, just producing the content, organizing it and testing everything works as it should. I have to say that even though my schedule has blown out and that I am behind on work on Surfulater it has been and continues to be a worthwhile exercise, and one I am glad I took on board and didn't outsource. I've learned a lot, verified my choice of CMS was the correct one and have set up a system that will hold us in good stead for the foreseeable future.
And here is that glimpse I promised – it is today's snapshot of the new home page.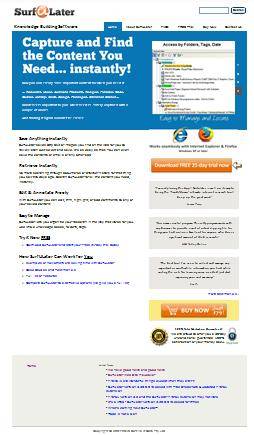 Work continues apace and will hopefully see the light of day before too much longer. I really can't wait to get back to work on Surfulater.