Developing a product of any sort revolves around many different inputs and ideas. One that is all important is listening carefully to customer feedback and doing your best to meet your customers needs. Balance is also important, you simply can't go and add every feature that everyone suggests or you'd finish up with a product that no one would want to use and you'd probably be broke because you'd put way too many resources into its development. I mention this because the latest Surfulater release, V2.00.20.0 is all about meeting customer needs.
As products evolve and more people start using them, they may be put to use performing tasks the product designers hadn't ever considered. This is certainly true of Surfulater. In fact I'm sure I don't know the half of what people are using Surfulater for. This isn't too good from my point of view, but it speaks well of Surfulater that so many people find it, not only capable, but well suited to handle a variety of tasks above and beyond its core competencies.
The prime enhancements in this release revolve around the ability to reorder content in the Knowledge Tree using a new Advanced Article Sort, along with the ability to change the Date Created for Articles. Advanced sort enables you to sort the entire Knowledge Tree, or a Folder and optionally its sub-folders. Sorting can be done by Article Title or Date Created, in either ascending or descending order.
To access Advanced Sort right click on a Folder in the Knowledge Tree and select it from the context menu as shown here.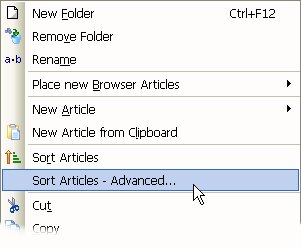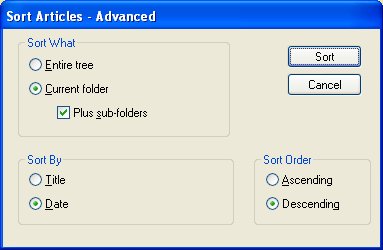 Select from the various Sort options and then click Sort.
To change the Date Created for an Article right click on it and choose Set Date created from the menu.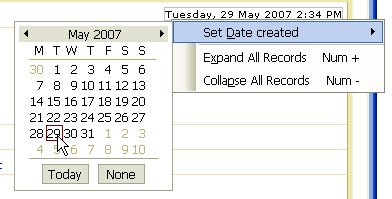 Choose the new date from the date picker window or click on Today or None, the latter leaving the date as is. When the current date is selected the time is set to the current time, otherwise it is set to 12:00AM.
These new capabilities are useful when you use Surfulater as a Journal or simply wish to move articles in time.
While we are talking dates one thing I've personally wanted in Surfulater is to be able to set Reminder or Follow Up dates in articles. Sometimes when I capture content I know I don't have the time to read it then and there. The ability to pop-up a reminder in a week or so would be very handy here. Alas no one else has requested this yet, so it sits on the sidelines awaiting.
For the other changes and bug fixes in this release see the Release Notes in the Help or on the Forum.