I'm excited to release another major milestone version of Clibu Notes. This version continues the complete rewrite and redesign of Clibu based on your feedback and use cases. It also brings back some of the sought after capabilities of Clibu's predecessor, Surfulater. In particular a Folder tree with Notes, selectable icons and background colors, full drag and drop, sorting, date views, filters, user controlled tree item ordering and archive and trash groups.
The user interface is being redesigned to deliver a more streamlined experience with less clutter and be more visually appealing. This screenshot will give an idea of where we are heading, although changes are highly likely.  Icons and labels assist with identifying context. Of course we have a live demo (link below) you can play with.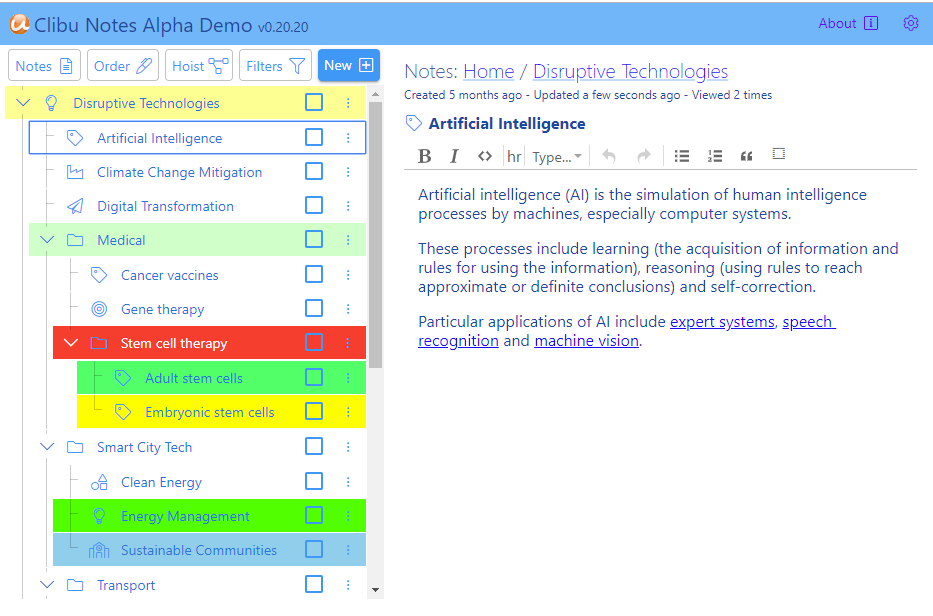 Another major update is a new and far more capable and robust rich text editor.  At present only basic editing capabilities have been included. To follow we'll deliver Markdown support, Tables, Checkbox items and more. The overall editing experience will be much improved.
The new Home content panel gives quick access to Recently Updated, Recently Created and Most Viewed notes.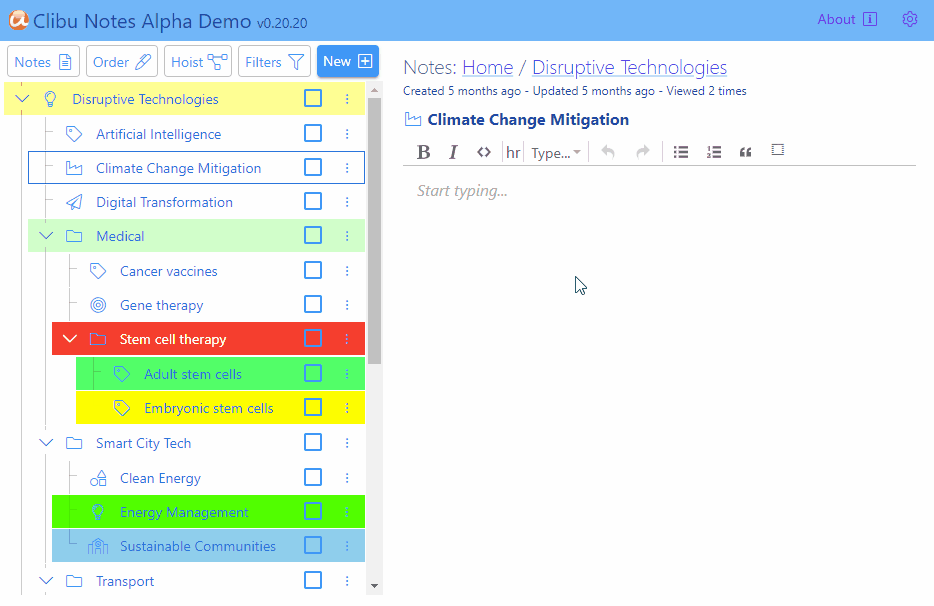 You can quickly move between Note content/editing and Home.
Also new in this release are Notes, Archive and Trash groups. Notes can be freely moved between groups. Home content is specific to the selected group.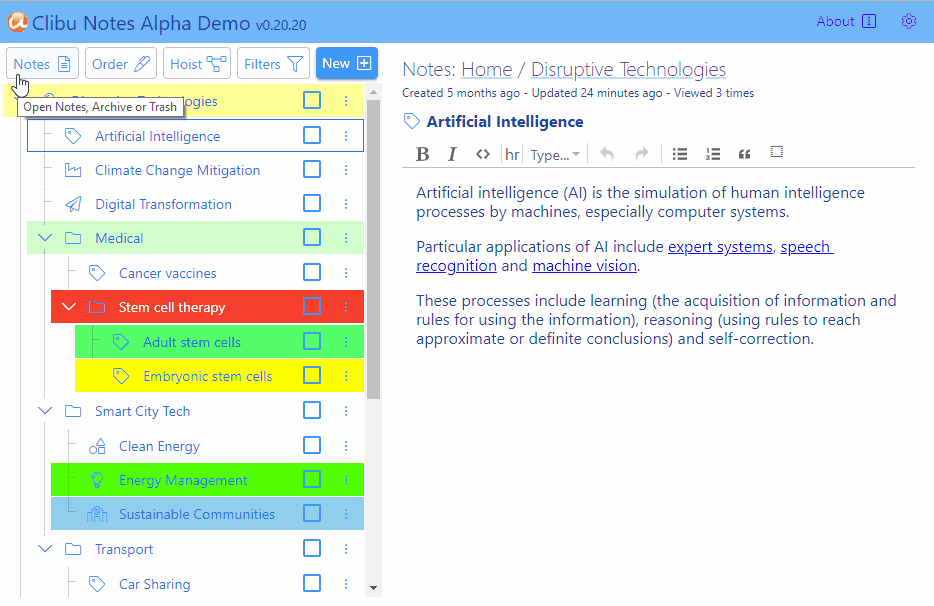 In Archive and Trash groups, ancestor Notes which are in a different group are displayed dimmed and Notes in the selected group show either the Archive or Trash icon. Notes can't be edited in Archive or Trash groups. Empty Trash is coming.
Clibu Notes stores everything locally in a database in your Web Browser ensuring complete data privacy and fast data access. Import and Export/Backup will be available.
We plan to deliver full offline capabilities where you can continue working without an Internet connection. Much needed when you are on a plane, train or just getting away.
We'll also offer optional real time synchronization across devices as Clibu provides now, along with synchronizing changes when offline devices come back online.
Noteworthy in this release is the addition of Note URLs in the Browser Address Bar. You can use these URLs to open Notes from other within applications or by pasting them into the Browser address bar.
For additional application information click the "About [i]" button in the Demo app.
Other items on our roadmap include:
New full text search engine
Tags with drag & drop
See Also cross reference links, with drag & drop
Attachments and Image support
Drag and Drop everywhere
Tablet and Smartphone support
User activity tracking and permissions
Document versioning
Collaborative editing
Content Sharing and publishing
Import/Export and Backup
Your suggestions
…
In earlier posts we've showed Hoisting, Filters, Tree drag and drop etc. These are recommended reading – see: Sample Clibu ToDo App with our new Tree and Unveiling our new Clibu Tree Widget
You can play with the new Clibu Notes Demo here. As I mentioned above, all data is stored locally in your Browser.
The Settings menu lets you remove the demo content and add it again. Certain demo content is created at random, for example date created and Note text.
Please let me know your thoughts on this early alpha release of Clibu Notes and help us guide it, to best meet your needs.
– Neville