The Surfulater evolution continues with the release of Version 3.15.0.0. This is another milestone release with major changes to the Surfulater code base to bring it in line with the latest Microsoft Development tools, in particular MS Visual Studio 2008 and the latest C++ Compiler. This makes Surfulater more robust and enables us to use the latest Microsoft technologies as we move forward.
I've also taken this opportunity to make substantial changes to the way the Surfulater code is packaged. In particular seven DLL's have been completely removed and two more have been taken out of the Installation package. This code refactoring and repackaging removes problems caused by wrong versions of DLL's and moves us closer to the possibility of a single .EXE file, potentially without any need for an Installer. Further it helps pave the way for a Portable USB Stick version of Surfulater. And finally it reduces the size of the Installer download file from 7.79MB to 5.67MB and the installed code footprint from 16.347MB down to 12.68MB. Substantial effort has gone into this, taking up much of our development time since the last release.
That is all below the surface, but there are good things happening above ground as well.
The most visual change in this release is how Tags are displayed in articles.
They don't just look a lot better, but they perform better as well, in that you can now click on Tag to jump to it, in the Tags Knowledge Tree and then see and work with all the articles with that tag.
The next enhancement is the ability to change the color of text using Set Text Color, which is in addition to setting its background color.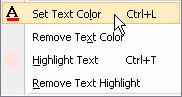 Clicking on the button or choosing the right click context menu item changes the color of the selected text to the current color.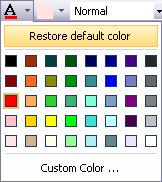 Clicking on the down arrow opens the color selection palette, which enables you to change the current color. Note that the current color is displayed below the A image. Restore to default is also new in this release and sets the current color back to its default value. This is also included on the Highlight Text color palette.
Another new feature is Set Title to selection which enables you to set the Title of the current article to the selected text. This is available on the right click context menu, when used on selected text.

There are times when an Article Title is not what you want and this provides a quick convenient way to change it.
If you are observant you will have noticed Web Search on the menu screen shot above.

This new feature enables you to perform a Google search using the currently selected text. Another handy time saver.
A subtle change we've begun in this release is the ability to make more changes to selected text without having to be in edit mode. For example the Add a Link and Remove this Link commands can now be used when not in content editing mode. As can the new Set Text Color.
Of course there is more; drag & drop can now be used during content editing to move text and images, and Copy and Paste as reciprocal 'See also' links can now be used in the Tags and Chronological Knowledge Tree views.
As always all of the new features and bug fixes are documented in the V3 Release Notes in the Help as well as in new and updated Help topics. Make sure you at least read the release notes.
The latest release of Surfulater is available from our Download Web page.
We've recently completed a major overhaul of the Surfulater home page and I hope it does a better job of conveying to people what Surfulater does and how useful it can be. Feedback welcome.
I'd like to dedicate this release to our friend and golfing buddy Neil Oram who sadly and unexpectedly passed away last Monday 20 Apr 2009. Neil was always a pleasure to be around and had many great games of golf left to play. He will be fondly remembered and greatly missed.