The first big new feature in this release is the ability to link from other application documents directly to Surfulater articles. For example you can add an article link to a Microsoft Word Document and then click on that link and open the article in Surfulater, as shown in this picture.
 
'See Also' links have always been invaluable in creating webs of related information within Surfulater, and this new external linking capability extends that to enable using links from other applications. This important new capability opens up your Surfulater content, making it quick and easy to access from other applications.
To create an External link right click on the Surfulater article and select Copy As from the context menu.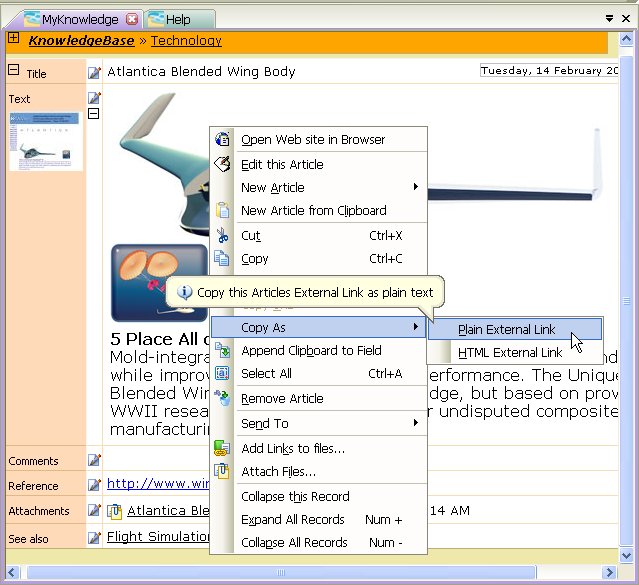 For this example we choose Plain External Link as that's what we need for the MS Word document. This copies the link to the Windows Clipboard.
The next step is select the text in our Word document which we want to add the link to and press Ctrl+K or use the Hyperlink toolbar button or menu option. Then paste the link into the dialog as shown here and press OK.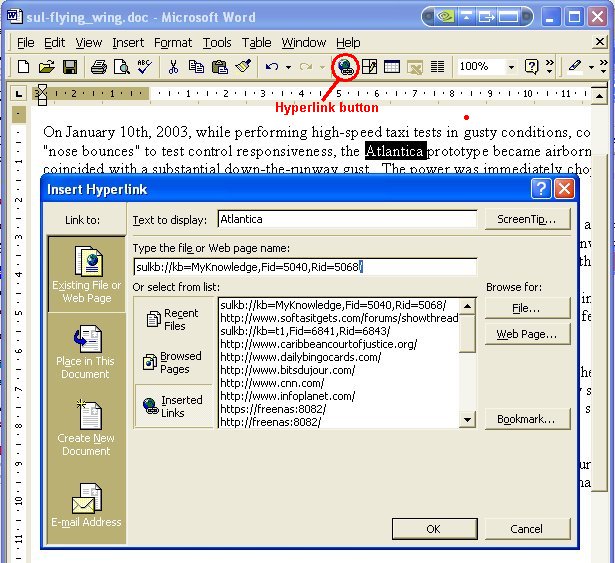 The result is a link we can click on to open the referenced article in Surfulater, as shown in the first image above. Note that Surfulater doesn't need to be running for external links to work.
These external links to Surfulater articles can be used in any applications that let you use Hyperlinks. They can also be used from a Windows Command Prompt and on the Surfulater command line. For more information on External Links see the Surfulater Help topic: Power Features|External Links.
The next important new feature in this release is the ability to use 'See Also' links to connect articles in different knowledge bases to each other. This extends the existing 'See Also' links, making them even more useful.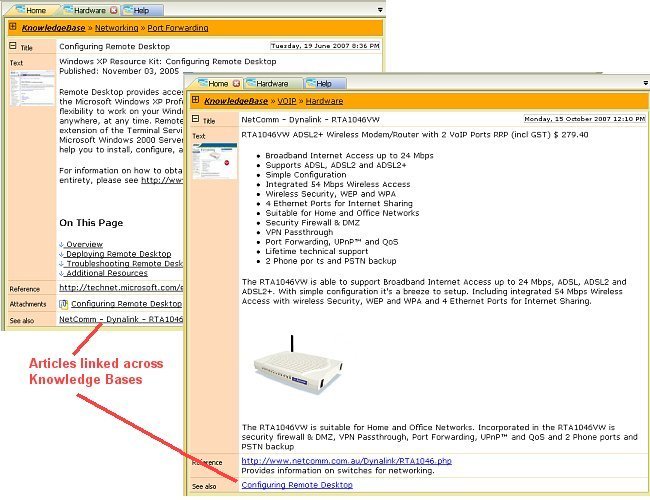 This screen shot shows a 'See Also' link in the Hardware knowledge base which accesses an article in the Home knowledge base and vice-versa. Clicking on either link opens the referenced knowledge base, if it isn't already open and then displays the linked article.
'See Also' links across knowledge bases are created in the same way as links within a knowledge base, using "Copy" and then "Paste as reciprocal 'See also' links". See the Surfulater Help topic: Power Features|Creating Cross Reference links.
Also updated in this release is the use of Cut, Copy and Paste, including their use on the Edit menu and Toolbar buttons, along with with the Ctrl+X, Ctrl+C and Ctrl+V keyboard shortcuts. All methods of issuing Cut & Copy are now available both in the Knowledge Tree and in the Content window, with the action they perform based on which window has focus and whether there is any text and/or images selected in the content window. These changes improve the availability and uniform use of Cut & Copy.
The final new feature to point out is Copy Image and Cut Image, which enable images to be copied to the clipboard, without having to first select them.
For more information on Cut/Copy & Paste and Cut/Copy Image see the new Help topic: The Basics|Cut, Copy, Paste & Cut/Copy Image.
That's all for now, I hope you like the new features in this release. As always your Comments are most welcome.
Version 2.30.10.0 will be available shortly from our Download page.