Ok the dust has settled, and there have been no real problems to speak of, with the Surfulater V2.00 release, I'm very pleased to say. I want to briefly run through some of the new features in this release, so go and grab a cup of tea or coffee and read on.
Our first stop is the Knowledge Base (KB) Tab Bar which enables you to quickly switch from one knowledge base (database) to another.

This has been enhanced to include the drop down KB selection menu, shown above, a new IE7 style Close button on the active tab, the ability to rearrange tabs in whatever order you want by dragging them to the desired location, and a new right click context menu that lets you Close, Open and Create KBs, as shown below. The KB selection menu is handy when you have lots of KBs open, as it saves having to scroll the tabs to locate the KB you want.

If you haven't ventured as far as using multiple knowledge base files, you should give it some thought. Don't go overboard creating lots of KBs though. I've got 24 at last count, with a number past their use by date. For example I used three KBs when planning a trip to Europe last year, but these are of little use right now. They may be in the future though.
See the Help topic: Power Features|Knowledge Base Tab Bar for more information on the Tab Bar and The Basics|Working with Files (new/open/close) about creating new KBs etc. 
Next up is the new Add Links to Files… capability. Surfulater has had the ability to attach and permanently store external files in its knowledge bases for some time, but sometimes you simply want to store a link to a file and not store the file itself. You were able to do this, but it was cumbersome to say the least.
Add Links to Files works like adding Attachments with the only difference being the end result. You can select and add links to multiple files using a standard Windows File|Open style dialog. 
Another new way to add links as well as attachments is to drag files from Windows Explorer and drop them on the Attachments field of an Article or Folder.
 

 
When you drop the files (release the left mouse button) a menu lets you choose whether to add links to the files or attach them to the article. Also new in this release are the images shown in the screen shot above, which indicate whether a file is a link or an attachment. New CSS styles have also been added, so the mouse over hover color is different for links and attachments.
See the Help topics: Power Features|Attaching & Linking Files to Articles and the Release Notes for more on this.
Next is a most welcome new and quick way of appending content to existing articles without having to switch to Surfulater. For example let's say you've just added a new article from your Web Browser and then want to add more content from the same web page or even a different page. To do this select the content you want to capture, copy it to the Windows Clipboard and then press the new Append Clipboard to Article Hotkey (Ctrl+Alt+. by default). Surfulater can then either stay hidden in the Windows System Tray or come to the foreground. You can of course append new content from any program, for example MS Word, Adobe Acrobat etc.
For more on the Append Clipboard to Article Hotkey see the Help topic: Power Features|Appending content to Articles.
Ok sit tight, just two more new features to go for this wrap up.
It has been brought to our attention that not everyone wants to use My Documents\My Surfulater as the default Surfulater data files folder, so we've added a new item to the Preferences dialog that lets you set the Data Folder as you desire.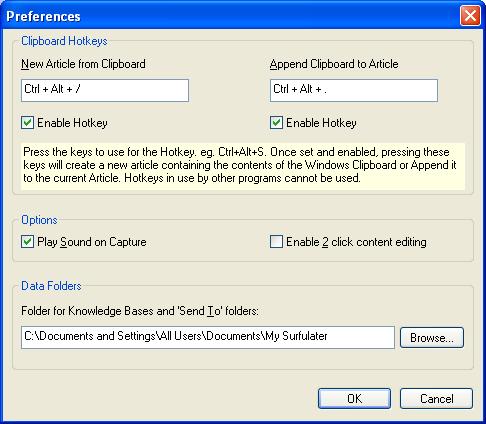 See the Data Folder field at the bottom of the screen shot, well that's where you set it. I personally use the Shared Documents folder, as you can see above (indicated by "All Users"). This screen shot also shows the new Append Clipboard to Article Hotkey setting.
For more on Data Folders see the Help topic, Power Features|Preferences.
And to conclude there are six new UI (User Interface) Themes, which include various Office 2007 themes and a new UI Theme Toolbar.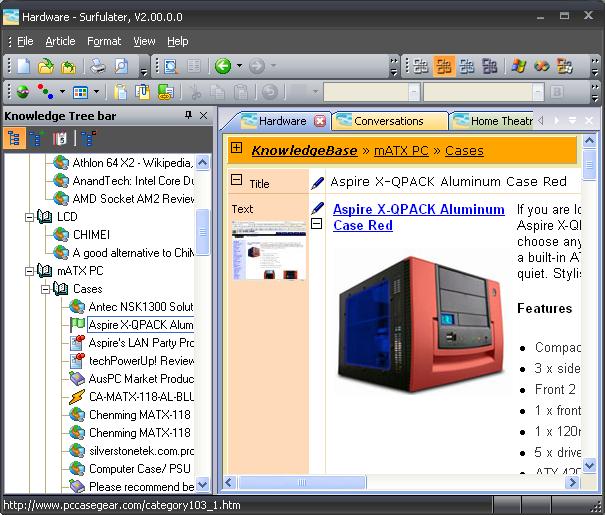 This screen shot shows the Office 2007 Obsidian Theme, along with the new UI Theme Toolbar.
And for anyone interested that's the mATX Case I've just bought for a new mini PC I'm going to build over Christmas. I've never built modern day PC before and am looking forward to this, albeit with some trepidation.
There are a more things in this release, including all important bug fixes, which you need to go and read about in the Release Notes in the Help or on our Support Forums.
It has been a great year, made all the more so by your support, feedback and words of encouragement. There is still plenty of important and interesting work yet to be done and I look forward to watching this unfold in 2007, as no doubt you do. I also look forward to continued growth of our customer base in the year ahead.
If I don't post again before Christmas thanks again to everyone, have a great Xmas and a very Happy New Year.
Neville Franks