Another shiny new Clibu update has been released. The main new feature in V2.00.14 is the ability to access a Table of Contents for each Article, select an item and position to it.
Articles can get quite long and finding what you want inside them can be more difficult than it should be. This is where the Table of Contents (TOC) is very, very useful.
When you click/tap on the new TOC button the current article is scanned and all content that is formatted as headings is gathered and displayed in a drop down menu as shown here.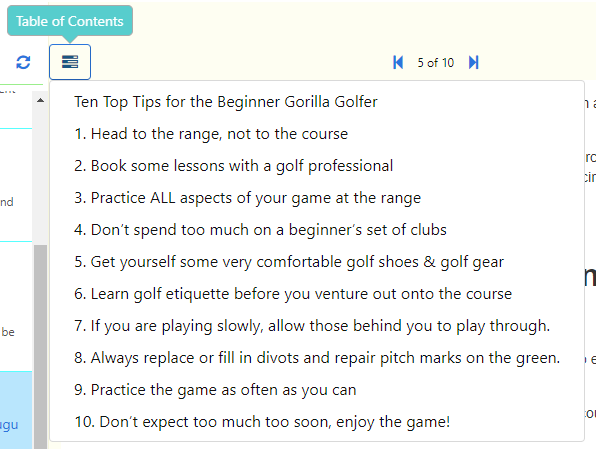 Note that the numbers 1-10 in this example are in the actual article headings.
Selecting a TOC item scrolls it into view and briefly highlights it, making moving around articles much quicker. Whilst editing the cursor is positioned at the end of the selected item.
When you open Clibu it now restores the current Article to the last article you viewed in each Tab in the previous session. This is in addition to restoring and running the last query.  So you start back exactly where you last left off.
This is something I've personally been wanting for a while now. It is all about workflows and getting back in the zone as effortlessly as possible.
Various issues with Clibu's Annotations (pop up Notes) which crept into V2 have been fixed along with a few illusive, hard to track down and annoying bugs.
See the complete Release Notes for details. which you can also access from the Clibu User Menu.
– Neville